Testimonials
I bought a cookery voucher as a Christmas present for my husband. Prett very kindly allowed me to watch while she went through the lesson. We both thoroughly enjoyed the session and the food he made was delicious. We would highly recommend this.
Liz Frankland
Hi Prett, the dishes were amazing. It was all excellent but the rice was perfect and the Bhuna was mind blowing. Thanks so much for a top lesson and when I get me next bonus I'll be sure to book another session.
Richard 2018
Had a fabulous day today learning how make curry cuisine! Learnt so much about the spices, had lots of fun making chapattis, need more practise! my favourite was the mango salsa which went so well with the salmon tikka masala- tasted lush! Just had tea at home, pea and cumin rice, Bombay potatoes, chapattis with chicken masala. Yummy! Can't wait to get going with my Indian spice box, chapatti rolling pin, chapatti pan, chapatti bhakahri datta and pretts family secret recipe book.
Lynne Newsome
Many many thanks for today we had an amazing time! You're great fun and put things across in a very understandable way - we learned loads! After a lot of practice, we ll be back for lesson no 2.

Thanks again.
Helen and Jamie x
Sep 2014
"Thanks so much for an enjoyable lesson and the fantastic feast afterwards. I'm still working on getting my chapattis properly round!"
"I really enjoyed the course and you really are an excellent chef and teacher"
"Just wanted to say that after having attended 2 of your curry nights at Swinton Park, I am still making good use of what I learnt, much to the amazement of my family! Many thanks for a wonderful cooking experience"
"A very enjoyable and informative day, thank you!"
"Fantastic! I had a brilliant time and I'm really looking forward to showing off my new curry cooking skills - thank you very much!"
"Well paced, practical base that dispelled the difficulty of cooking a curry from scratch"
"I have achieved all that I wanted from this course. I now have the confidence to experiment with Indian cookery. An active, interesting and relaxing time. Deeeelicious!"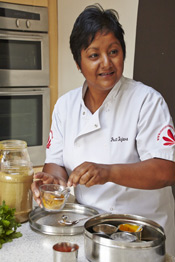 Curry Cuisine was an excellent choice for us at Moorlands School to enhance our pupils discovery of other cultures. Prett provided a truly excellent service from booking, right through to tidying the kitchen at the end!
The workshop was discussed with ourselves from recipes to timings of groups. Prett ensured we were informed of any preparation at our end (which was simply providing plates and spoons for the tasting!) and ensured she was ready for punctual start at school. Prett was a natural with our groups of children, calm, relaxed and child friendly explanations.
She ensured simple demonstrations, letting the children use all of their senses throughout the cooking process. All 90 of our children were able to take part in the cooking process, this even included chappati rolling! The children were then able to cook their creations and best of all taste a range of dishes from the Indian culture, which tasted fantastic!
Our children adored the practical workshop and have benefited a great deal from a hands on approach and opened up their understanding of food from a different culture and are still talking about it days later! We will be booking Curry Cuisine again!